OKR – the management framework of the hour
Cross-organizational alignment is often one of the leading indicators for the success or failure of a company.
This year, our managing directors Christoph Brust and Stefan Wiegreffe shed light on what exactly alignment means in a company, what prerequisites successful Objectives and Key Results (OKRs) need, and what goal they are pursuing with the OKR framework at esome. Finally, both explain how the OKR method has changed collaboration at esome.
OKR is the management framework of the moment. Arguably, no other agile method is gaining more attention right now. So what is the OKR (Objectives and Key Results) approach, and how does it work?
Stefan: OKR is a holistic method for achieving goals and improving a company's performance at all organizational levels. The O stands for Objectives. This refers to the directional goals, such as a desired change or innovation, that are to be achieved. The KR stands for Key Results. Key Results show whether these goals have been met. They obtain measurable objectives and can be referred to as the Outcome. It is essential to understand that OKRs cannot be compared with a roadmap, as would be the case in project management. In project management, everything is planned, whereas, with OKRs, the journey is the goal. Therefore, it is advisable to define the next smaller steps and constantly reorient oneself based on the current status quo. The focus is on the "why" – in other words, whether or not the steps have been successful so far. This means that even if you go through a very long process and planning phase, OKRs still make sense. It's more than chasing a clearly defined goal in advance, making changes, implementing them, and continuously adjusting them. A good metaphor for a better understanding of the framework is a trip around the world. As an example: A trip around the world could serve as my objective. In doing so, I don't thoroughly plan my entire journey but decide situationally, "What is the next meaningful step? Where do I need to go?". So I would instead plan in stages. In this case, the Key Result defines how close I have reached my (stage) goal.
Christoph: What also helps is to consider the OKRs as a basis for experiments. In other words, in the end, you never really know what the right path is – but always what you want to achieve. Only at the end do you have the possibility to determine whether you have come closer to the goal. The Key Results can be used to make this goal achievement measurable. As Stefan has already pointed out, you are already successful if you have done everything to get closer to your goal. It is not about achieving the goal 100 percent. I believe that using OKRs is only good when you know this.
"Our overarching goal is to address the question of "Why?": Why do we do something?"
Managing Director Stefan Wiegreffe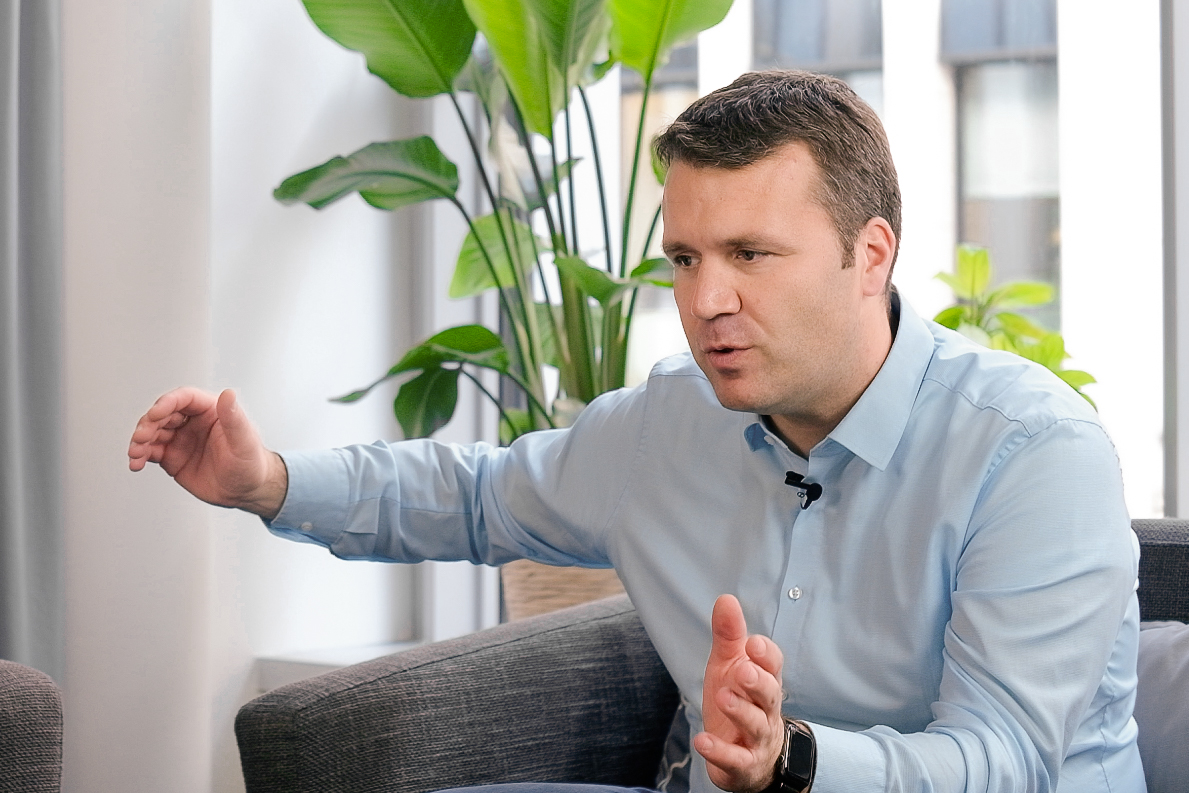 What is your goal with the OKR framework at esome?
Stefan: Our overarching goal is to address the question of "why": Why do we do something? Especially in the dynamic advertising industry, it is essential to question processes and goals again and again critically and to adapt them to the current market situation. The OKR method allows us to set our objectives and key results repeatedly.
Christoph: Exactly. Everything that cannot be planned with sufficient certainty needs such a framework. Especially when things change quickly, and we have to react or act soon, for example, to market trends, the method is thoroughly recommended. A crucial element of the OKR process for me, compared to more traditional methods, is the focus on the entirety of the company. The most important goals are worked out and communicated to everyone. Optimally, everyone knows what contribution they can make to achieving the company's goals. It is important that the OKRs are not only developed in a few heads but that the whole team is involved. OKRs are used to adapt and improve the way we work together continuously. So the three magic words are Interdisciplinarity, Transparency, and Laterality.
What is needed for successful OKRs?
Christoph: Very important: Alignment – that means that employees, products, and processes are brought into harmony and aligned toward a common goal. OKRs only work if the entire team is behind them and can identify with the common goals. A rigid, linear approach cannot lead to success in a complex and dynamic environment. Therefore, when setting the objectives, it is essential to ensure that they focus on the coming quarter and thus describe what is relevant for the company at the current time. In the process of OKR formulation, it is critical to involve the entire company. Successful use requires the involvement of all teams and individuals in setting the company's goals. This is the only way to ensure employee commitment. Another important point here is the purpose, i.e., that each employee recognizes the meaningfulness of their work. It makes a big difference if each colleague develops an understanding of this and asks: "What do I do every day, and does this pay off in concrete terms for the things we want to create at all levels?
Stefan: It is very important here not to forget the big picture. OKRs don't work in a vacuum. To define them meaningfully in advance, knowing where we want to go in the long term is crucial. In this regard, OKRs make sense for any entity. However, whether it works depends heavily on the approach to implementation. At esome, we have developed our own tool to track our goals for this purpose, which we also use to create more transparency across all departments. We call it "Keep Moving." This enables us to bring the entire team into the OKR process. This way, we achieve alignment across all departments and can create synergies. In line with our corporate values #westaybetter and #weinspire, we try to get better together and inspire each other. Transparency is essential to us so that each employee can clearly understand how to contribute to these goals individually or across teams and departments. In the case of goal overlaps, we can support each other or even point out significant differences. In addition, we at esome have introduced a so-called Goals Update Meeting (GUM) once a week. This promotes the feeling of a common goal among our employees and that "we are working together to achieve it." As a result, every employee gets a concrete insight into what is currently being worked on and which synergies can be discovered.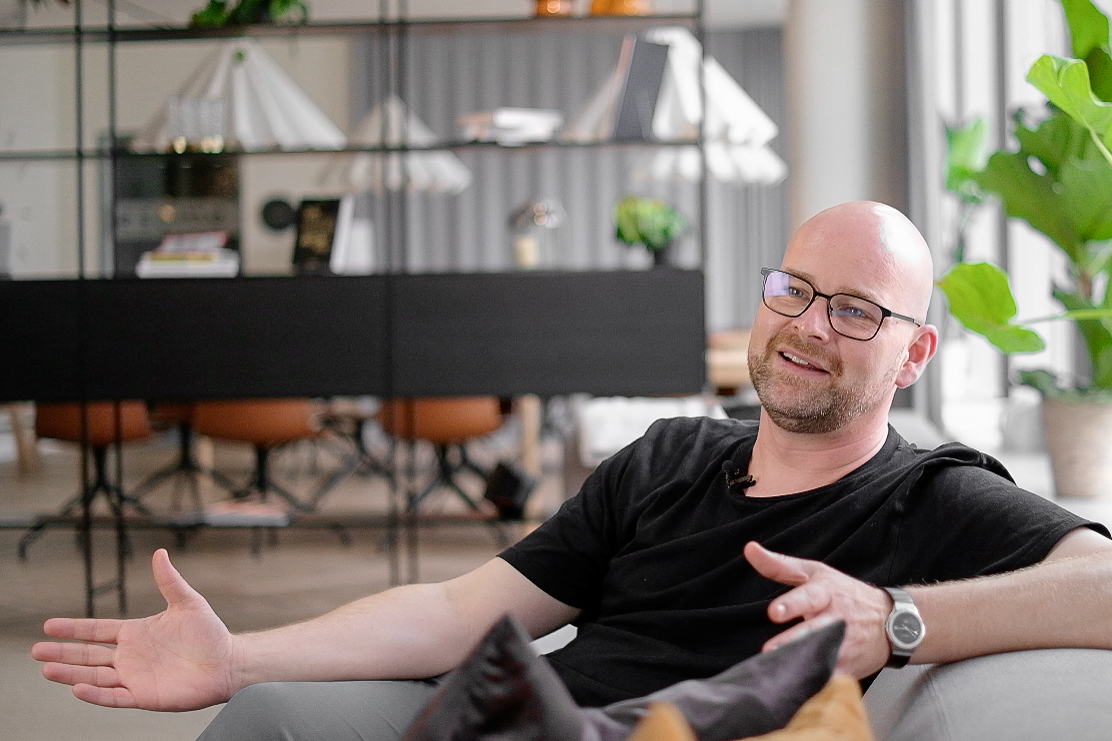 "The most critical element of our corporate culture, which is indispensable for a successful implementation of OKR, is the team-oriented collective."
Managing Director Christoph Brust
How has the OKR method changed collaboration at esome?
Christoph: That's not easy to answer because you need to pay attention to the following: Implementing OKRs is a long process. A corresponding transformation can only be observed gradually and is not immediately visible. It is not the idea of one individual but an outcome that is only possible through cross-team consultation and collaboration. At esome, this is the most noticeable point of change for me. In the past, when we faced new challenges, we mainly looked around the responsible department. However, the more we have engaged with the OKR method, the more intensively we focus on the obstacles themselves and consider which competencies are needed. This slow dissolving of departmental thinking, to concentrate on individual problems with individual competence requirements, is a significant change at esome.
Stefan: Exactly. As with many agile methodologies or processes, you have to distinguish between the OKR process and the mindset behind it. We have seen significant changes on both levels over the last few years. This typical process, which involves all employees, leads to greater focus and discipline, as well as better coordination and alignment between all departments. We are starting to speak a common language. At the same time, a very innovative mindset has been established over time.
What influence does esome's corporate culture have on the success of OKR?
Christoph: The most critical element of our corporate culture, which is indispensable for a successful implementation of OKR, is the team-oriented collective. This fundamental idea that we want to achieve our goals in the best possible way, thanks to the trust and close cooperation, drives us. However, OKRs will help us deal with emerging challenges and optimize our error culture. "Speak up" is also a value that I strongly associate with OKR. The most relevant input is not tied to a hierarchical framework but can come from anyone and everyone – regardless of position.
Stefan: I think the success of OKR and the corporate culture influence each other. A corporate culture like esome helps to implement the process faster. On the other hand, the OKR way of working also affects the corporate culture. At esome, we are change tested since our constant is change and the openness of colleagues to new things. As Christoph has already said, we are very good at dealing with things that don't run optimally. We can derive added value from it as long as we learn something. This mindset is now once again fueled by OKRs.
Looking back, would you introduce the method again?
Christoph: Definitely. Our experience over the last three years has clearly shown that esome has benefited from OKRs in many places and will benefit even more in the future. However, it is important that each company individually answers for itself what it wants to achieve with implementation and what it is also willing to give out to involve all employees. In my opinion, it is the best framework to keep employees motivated, to get more purpose in their work, to be able to react faster to changes, to be more dynamically positioned overall, and to use the expertise of all employees in the company. In this way, everyone actively contributes to the company's success, which is incredibly valuable for alignment at all levels.
Stefan: Like any other tool, the framework can, of course, be misused, and there is no patent remedy for successful implementation. But there is incredible value in the fact that we have already taken the first steps in the right direction. We've been able to identify what works and what doesn't. As a result, the process we are using now also makes sense for each team. However, since this process is based mainly on further development and constant optimization, there is still no end here. However, we are very satisfied with the current status we have achieved so far.