Homescreen. A look at Stefan Wiegreffe's smartphone
In the following article, you can take a look at Stefan's home screen as well as his favorite apps:
In the series "Homescreen!" Basic Thinking regularly presents home screens of people from the social media, marketing, media, and tech world – including helpful and entertaining app recommendations. For example, our CTO and Managing Director Stefan Wiegreffe showed his home screen in April and gave inspiring app recommendations for order, structure, and efficiency.
Organized person, a passionate techie, and a bit adventurous: This colorful mix describes me quite well and is also reflected on my home screen in my choice of apps.
Order, structure, and efficiency
Especially during stressful workdays, two apps are essential to keep the necessary overview: Things (for Android), a task manager based on the "Getting Things Done" principle, without which I could no longer work.
A reliable task manager has become indispensable for me to structure my projects and thus increase my productivity. But on the other hand, there is the app Shortcuts. It's been around on iOS for a while now, but now it's effective enough to get minor, repetitive tasks done quickly and without many detours.
I'm only scratching the surface, but it's nice to see how many processes you can now automate on your smartphone and thus make them more efficient.
On the Road
For private trips with my family and work trips to our location in Belgrade, TripIt (for Android) has been one of my best options. With it, I have booked flights and hotels available at a glance and get push notifications, for example, when a flight is delayed, or a gate changes.
I use the Komoot (Android) route planner app in Hamburg or on the road. Always an excellent place to find new running, hiking, or biking routes. Speaking of biking – I ride my bike to the office almost daily.
While doing so, I always listen to podcasts and use the standard iOS app Apple Podcasts. My favorites include the "State of the Nation" and the "alphalist.CTO Podcast".
News, background knowledge, and music
I get my daily dose of niche news with the Apple app Reeder, one of my most used apps. I can't live without this reliable and convenient RSS client.
I send articles from my feeds or relevant newsletters that I can not or do not want to read to Matter. I then have everything collected in one place to read during my leisure time. This way, I avoid missing important industry news from the tech sector and the digital advertising world.
Music always helps me to switch off from everyday work. Poolsuite FM, an excellent internet radio, is one of my favorite apps. The music is to my taste, and the interface has an appealing retro design.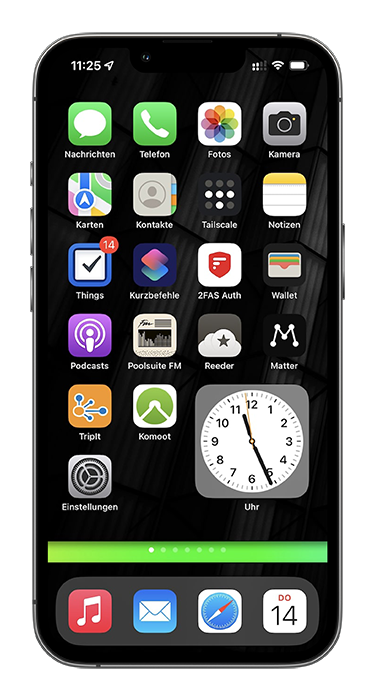 Apps in the background
I also find apps that only run in the background just as exciting. However, since I hardly ever open them, they are off my home screen. However, I use them almost every day because they generate enormous value. For example, I use Tailscale (for Android), a mesh VPN, or the app Das Örtliche (for Android), which allows me to reverse lookup incoming calls and block spam calls.