Branded Content for effective marketing strategies
Shifts in media consumption are frequently discussed. But media consumption is already highly fragmented, and the competition for attention is more intense than ever. In this environment, branded content can contribute to effective marketing strategies.
In a profoundly fragmented entertainment sector, attention becomes an exceptionally valuable resource. Brands strive to identify the medium with the highest attention and the most impressive advertising form to win the favor of their target audiences.
However, the rise of influencer marketing in particular proves that it's not just about being loud in the end; credibility and relevance also play a crucial role.
The term "Social Media" no longer suffices to describe today's landscape of digital entertainment. We are witnessing a paradigm shift towards "Social Entertainment," primarily characterized by video content. This shift creates new opportunities for brands to reach and captivate their target audiences.
In the era of "Social Entertainment," branded content emerges as a core trend that opens up new perspectives for creative and effective marketing strategies.
What is Branded Content?
Branded Content refers to promotional material seamlessly integrated into editorial context, enabling authentic and unobtrusive interactions with the audience.
Instead of relying on traditional advertising formats, brands using Branded Content employ subtler approaches to gain the trust of consumers and build lasting connections.
The focus is on conveying relevant and engaging stories that reflect the brand's identity while also providing value to the audience.
The Power of TV Brands in the Social Entertainment Era
The Seven.One Entertainment Group demonstrates how branded content can be particularly effective.
Our parent company leverages the established reach and influence of its popular TV brands to create smart editorial content, sponsorships, and other innovative advertising formats.
These seamlessly integrate into the high-quality video content of well-known formats and brands within the ProSiebenSat.1 family.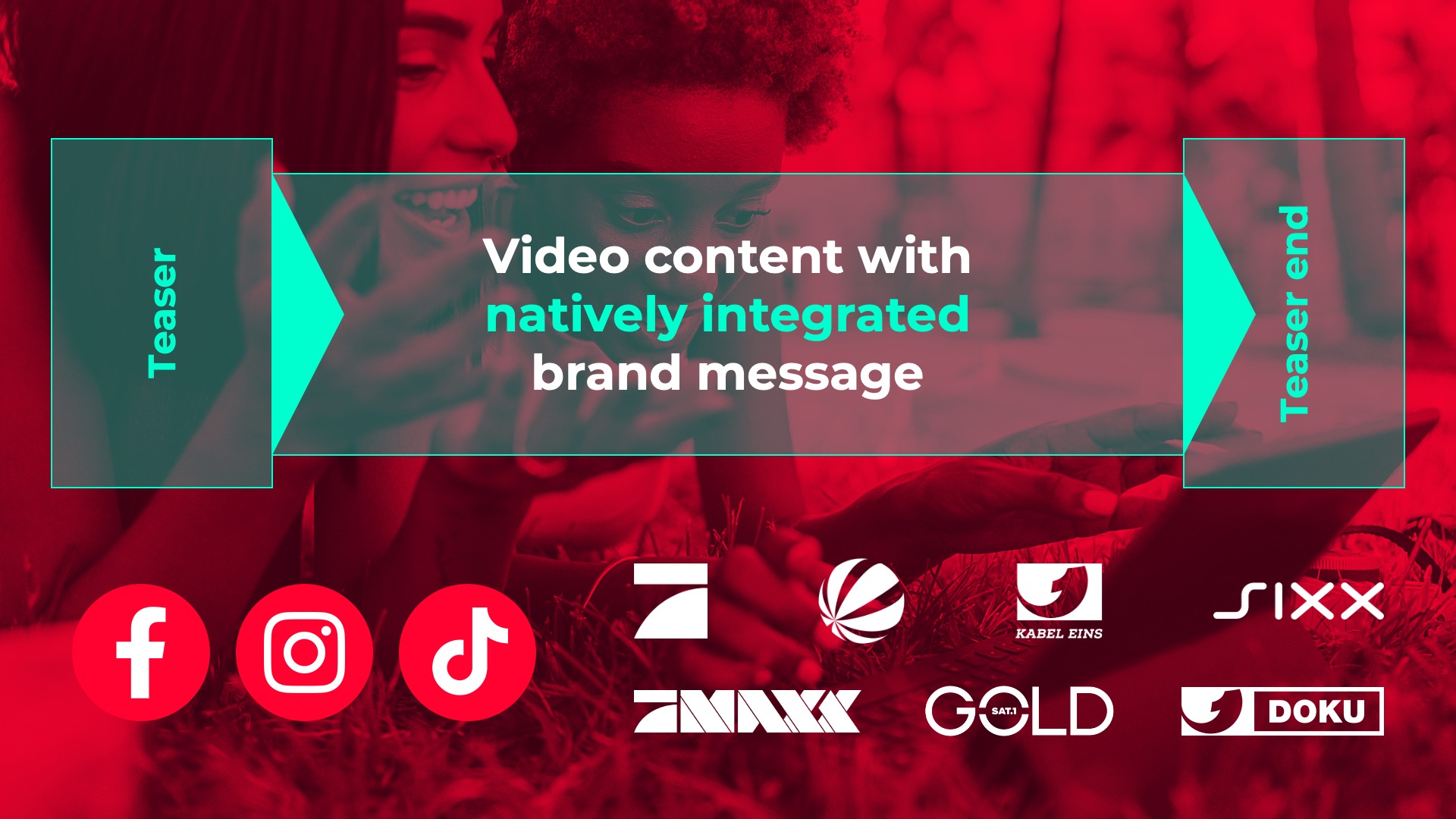 Expanding this approach with the growing reach in Social Entertainment results in a unique synergy: the creative power of Seven.One Ad.Factory and its expertise in branded entertainment, combined with our experience in the social ecosystem, allows for a natural and impactful representation of brands within Social Entertainment.
Effective Advertising Products for Sustainable Success
The fusion of entertainment and advertising through branded content yields effective advertising products that engage users beyond traditional standard ads. By focusing on entertaining stories and relevant content, brands can establish a long-term connection with their target audience and earn their trust.
In an era where the digital entertainment landscape is constantly evolving, branded content thus presents appealing new possibilities for brands and goes beyond being a mere trend: the combination of creativity, technology, and strategy will enable unlocking the full potential of branded content and captivating target audiences sustainably.
If you're interested in discovering how your brand can benefit from branded content or if you'd like to dive into this innovative approach directly, feel free to email us or get in touch with your contact at esome.