Surge in ad placement prices marked second quarter's end
Our quarterly Market Monitor analyzes the price development for ad placements across inventories. In the second quarter of 2023, we observed an ambiguous picture.
Freedom of speech is paramount - but with reach regulation in case of policy violations. Learn more about how X promotes and protects public conversations.

With TikTok Music, there will soon be a music streaming platform that opens up innovative ways of listening to music.

In a profoundly fragmented entertainment sector, attention becomes an exceptionally valuable resource. Brands strive to identify the medium with the highest attention and the most [...]

Your Content Goes Here For our Market Monitor, we quarterly examine aggregated campaign data from over 200 clients across all industries within [...]

TikTok is rolling out innovative updates to enhance the user experience and advertising opportunities on the popular social media platform.

LinkedIn's new A/B testing enables comparing different target groups, ad motifs, and placements. We take this as an opportunity to inform you about the opportunities and advantages of this testing format.

With Primetime Channels, YouTube now offers an innovative streaming experience without having to leave the platform.

Experience has shown that brands that maintain or even increase their market share during a recession usually emerge more robust from an economic [...]
How to reach GenZ?
Young target groups are becoming more digital and harder to reach via linear TV. Advertisers like Zalando must take this new diversity into account when addressing their target groups.
How to make campaigns not only visible, but tangible?
In the digital world, it makes a crucial difference whether users see a commercial only briefly or perceive it consciously. This detail often determines the success of a video campaign.
Combine TV & Digital efficiently
The selective TV viewing behavior of younger target groups leads to lower net reach within TV campaigns. Our cross-device technology eliminates such structural weaknesses.
Sustainable efficiency through
long-lasting partnerships
Thanks to our experience in the automotive industry and a long-standing collaboration with Volvo, we were able to build on insights from previous campaigns right from the start.
We invited our esomies to a late afternoon event at our offices. Of course, those who could not attend in person had the opportunity to [...]

This year, we participated in the B2Run, a company run in Hamburg, for the first time. The run offers a great opportunity to perform as [...]

The motto of this year's summer party was "Back to the roots." Therefore, it was unsurprising that tables were pushed aside and [...]

August is just around the corner, and for many children, it marks the beginning of an exciting phase in their lives: school starts -a milestone [...]

One week in July was dedicated to "external communication" in our offices in Hamburg and Belgrade. During our current OKR (Objectives and Key Results) [...]

Behind WEILL@night is a team of volunteers who support music artists and organize concerts, for example. They are involved in political discussions for [...]

In the spirit of bringing everyone together and celebrating the renovation of our Belgrade office, we sent out invites to a cocktail party. [...]

We are all familiar with the phrase, "work hard, play hard." However, due to the office renovation, our Belgrade esome employees could not [...]

Last Friday we had reason to celebrate - esome's eighth birthday. We organized a big game night at our offices to mark the occasion and [...]

"We create a place for guaranteed success in digital advertising", that's our vision. However, words must be backed up by actions. Because striving for success [...]

In times of crisis, the best thing we can do is to become active. We put this resolution into practice last week. As [...]

This year's Social Engagement Days focused on support for Ukraine and, like last year, took place in cooperation with Bürger-Helfen-Bürger e.V. Hamburg. Among many other [...]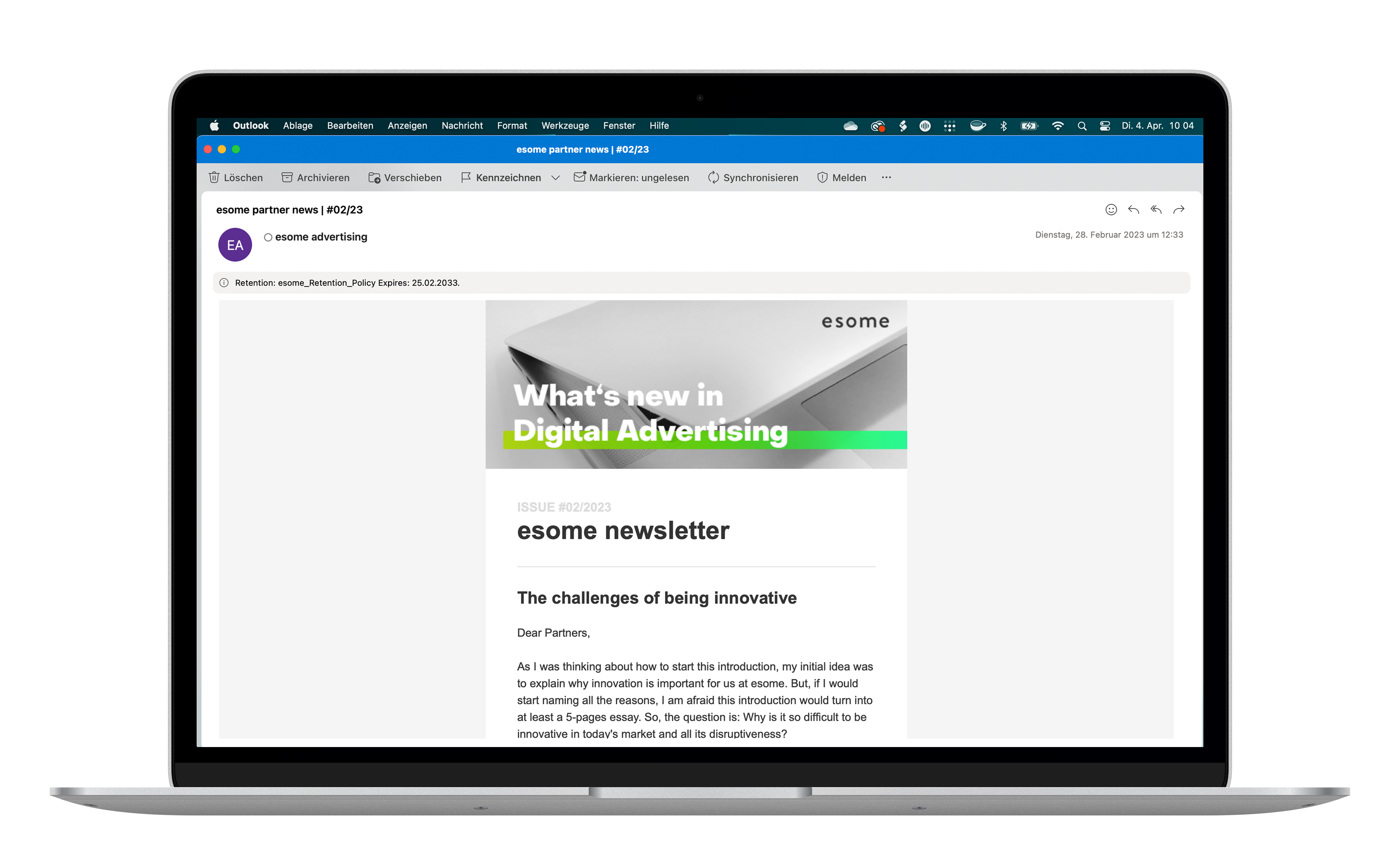 Do not miss out on any insights?
Sign up for our free newsletter here: